We are on a mission to make
workers

around the world ...

smile.
Through the love of work, employees will increase their performance, reach faster their KPI's, become more creative, innovative and, most importantly, be the proudest they have ever been to be working for their organizations.
Find below a few of the businesses who have started defying the corporate world status
quo with our help.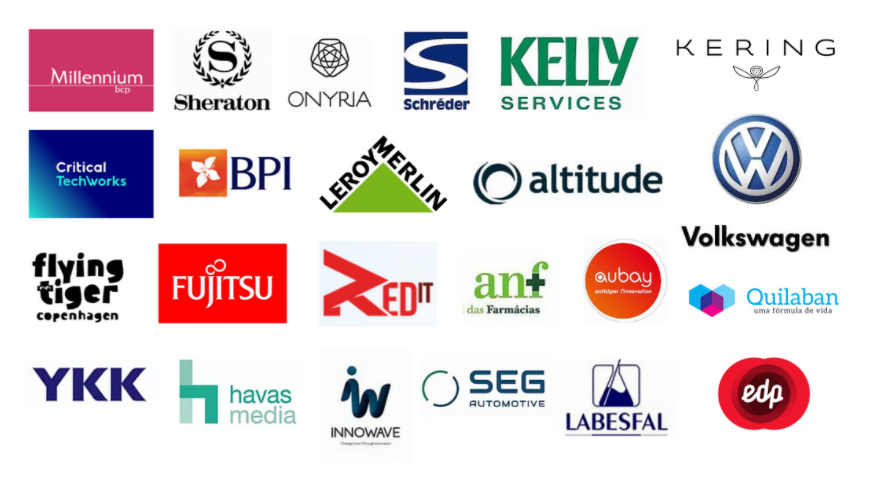 Talk or Workshop 'Mindset for Happiness'
1h30/4h
Based on Science of Happiness studies, resulting from the birth of Positive Psychology

and the new key competencies of People Management and Personal Leadership, this

workshop has as its main goal to hold employees accountable for their internal

happiness and motivation
Happiness Management Training Program
12h
The Happiness Manager training is a 2 day intensive training where you will rock your
Positive Psychology and learn Engaging Leadership.
Training Design Thinking for Happiness
6h
Design Thinking is a collaborative approach that focuses on employees' empathy for
solving a problem. Through design concepts, this training develops cognitive, strategic,
and practical processes leading to corporate happiness.
Positive Leadership Program
This program aims to improve leadership and communication skills in order to promote
a better performance between teams, exploring the internal focus first and, afterward,
the focus on others. Nowadays, it is essential to promote inclusive and positive
leadership to increase motivation and employee experience.
Consultancy Practice
3, 6 or 12 months
In our consulting process, we lead the way to raise awareness by measuring happiness
and the major assessable factors in your organization, providing personal training to
teams, helping you build your organizational happiness plan, and accompanying your
process. We will guide you through follow-up sessions to discuss ideas, suggest
practices, and keep measuring and tracking progress.
Happiness is contagious.
Let us share some of ours with you.
Thank you! We will get in touch as soon as possible!
Created with